more ebay & cuddles
Patrick took Nicky for a walk this morning (his third day of walking in a row...go bunny!) so I got to do my "morning pick up" without little him following me around. It was so nice.
After picking up, I sat down with a
vat
cup of coffee and started working on some html for my ebay auctions. I notice my store items are getting VERY few hits (even though I sold one item) compared to my auctions. I know store results show up last in search results but it still is kind of crazy. I am going to add a link in all of my auctions to my store so hopefully more people will go over and look.
From what I understand, the benefit of having a store is that you can let things sit for a long time for a very low price (.20 per item plus a $16/mo store fee). That way you might get that impulse buyer looking for just your item and not wanting to mess around with auctions. I am putting my store items at a pretty high (though way below retail) price but I am
accepting offers
. This means someone can make me an offer on something and I can either accept it or counter offer. I have most items set to immediately accept offers over a certain amount.
There is so much to (re) learn about ebay and I'm constantly reminding myself that this is not a race. I just need to do what I can, when I can, and it will be
just fine
. I think I want to focus on my weekly auctions and improve my store and marketing it when I can. Lots of people just have lots of sales out of their stores, though, and I am curious how! :) The mysteries of ebay.
For now, I am adding the blurb and link below into each of my auctions. Try it! Clicking the link or the picture will take you to my store. (this blurb is not in all of my auctions yet...Patrick went to work and I have a little Nicky on my lap. :) ) (also, not all of those items are available yet. see previous sentence.)
For more great items, check out my ebay store
SUGAR RIVER RESALE!
Inventory is changing constantly so
bid
or
buy now
and don't miss out!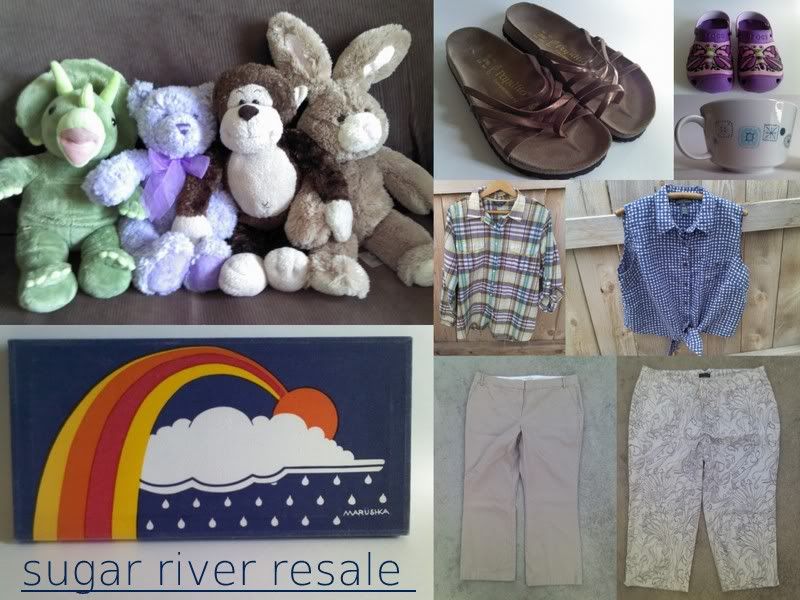 -
***************************************************************
I hate to say it but I think this time change is throwing me off more than anyone. My sleep is so messed up this week. I went to bed super early last night and then woke up at 3:30am. I was up until around 5 and then fell back to sleep. odd. I hope tonight is normal. Ruby is the only other one who seems a little out of whack. Super emotional and her teacher called me yesterday to tell me Ruby was pinching butts and pretending to drink her coffee. :) Her teacher is so sweet. She said they all laugh about how Ruby walks around looking SO innocent and then you get to know her a little bit and she lets her mini-freak flag fly.
Nicky is a super cuddle bug this morning so I need to go and focus on that. Feels good.
xoxo, friends.