Non-Scale Victories #1
Today I am linking up again with
KTJ Weighing In
for her Non-Scale Victories link up. It is what it sounds like...what you did right this week that isn't related to what the scale says. I first found one of these posts last week and loved it. I don't want to be a slave to the scale, have my mood depending on what it says (although it can sometimes...at least for a while). I want to gauge how I'm doing by other things...am I exercising? eating right? how are those goal pants coming along?? :)
So, here are my NSVs for the week:
1. We have a strange tradition of stopping at McDonald's after my kids' well child checks. (I know how wrong that sounds but they really don't have it very often.) After James' appt. on Tuesday we stopped and I didn't get anything! I really wanted a fish fillet but I had already eaten lunch so I didn't get one. Sounds simple but it felt really good.
2. Yesterday Nicky and I split a cake donut. It was really good and I totally had room for it in my daily calories (I am using sparkpeople and I get 1200-1500/day) so I figured what the heck. The victory here is that I didn't get one for each of us. I loooooooove donuts. :)
3. Yesterday and today, my jeans feel kind of roomy!! Roomier than they have in quite a while.
4. I really wanted to quit exercising this morning. Like, wanted to quit like I've never wanted anything else. See, I got up at 5:30 and started at 5:50am. Nicky started crying at 5:55 and James wandered upstairs at 6:00. REALLY??? Now Nicky is sick (bad cold/cough) and I have been up with him the last 2 nights and with him allllllllll day yesterday and honestly, I've had enough of the little
rat
dear. The point of getting up early is to be able to do it with no interruptions, you know? I was so irritated. Nicky was fine laying on the couch watching me, though, and James headed back downstairs after a couple of minutes. I felt tired and sluggish and sad but kept going and I did it! Yay!
(as an aside...week 2 of ripped in 30 kind of sucks. I love some of the exercises, and look forward to doing them, but all the plank work and those crazy push ups are so annoying!! And yes, I know that is the point, but still. Only one more day of week 2!! And it's not gotten much easier but I did switch from 3lb weights to 5lb weights so there is that.)
5. When I flex, I have a small bicep muscle. :)
Thanks for listening. I'm tired, you guys. I realized this morning that I should be tired. I have a sick kid, I haven't slept much in a couple of nights, I'm working on a big project...there's a lot going on this week. I need to go easier on myself. Tonight might be pizza night. :)
Want to be inspired and meet some really cool women?
Go check out the other Non-Scale Victories from this week: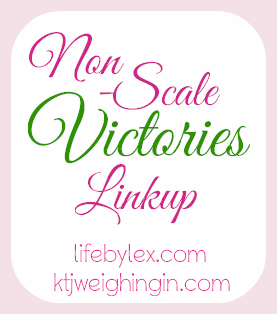 xoxoxo
p.s. My blog is all out of whack. All my sidebar stuff has been on the bottom for a long time and I can't get it back up. Help! My blog's fallen and it can't get up! Will work on that.