spring training 5k challenge, week 2
Oh my goodness. Like everyone else, I keep asking myself why these horrible things keep happening in our country. I was having a busy/stressful day yesterday, had composed a whole post about it, and then heard about Boston and all of a sudden none of it really mattered. So today I am waiting to hear more and praying for all involved. I cannot even imagine.
*************************************************************************
I started week 3 of Ripped in 30 yesterday and while it seems specifically harder on my knees and ankles, it's better than week 2. :) I decided to sleep in this morning so I'm going to do my workout today during naptime. I'm kind of looking forward to it. My left tricep is a little sore after yesterday so we'll see how it goes. Has anyone else done this program? What were your favorite/worst weeks?
Along with 5 days of ripped in 30, I ran twice last week and am almost finished with week 7 of the c25k. Each run was 25 minutes and will increase by 3 minutes a week now. On Saturday night Ruby wanted to come with me and I didn't really want her to. Once when James came he would not stop talking and it was super annoying. :) (I am not a chatter while I am running.) I let her, though, and it turned out to be my favorite run so far this round. I didn't listen to music so I could hear her on her scooter and I'm not sure what it was but it was a really enjoyable run. I think part of it was that thinking about
her
made me not focus on
me
. She scootered for 35 minutes...I was so proud of her. It was so fun! I am looking forward to getting out there again. (which is really strange to say!)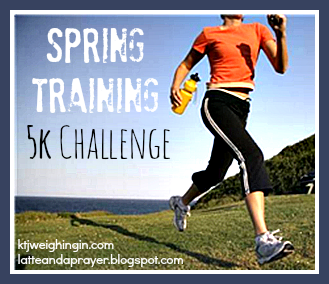 I'm linking up with
KTJ's Spring Training 5K Challenge
again this week. I love reading about what everyone else is doing and find it really encouraging. It was so nice to read some new blogs last week and have so many people stop by here and offer me encouragement. Thank you!
**********************************************************************
James is home today. He's not really sick so I'm not sure why. Like Nicky, a cold seems to affect him more (because he's male?! probably.) than your average bear so I am letting him have a low key day to recover and rest. It's also my little Nicky's third birthday and I have a Mickey Mouse cake to decorate during naptime. He asked for a Mickey Mouse cake specifically and I have absolutely no idea why. Okay, darling. I have to admit, I've been looking forward to buttercream frosting since yesterday. :)
We had a great weekend and I hope to be back and post more about it later.
xoxo