spring training 5K challenge, week 3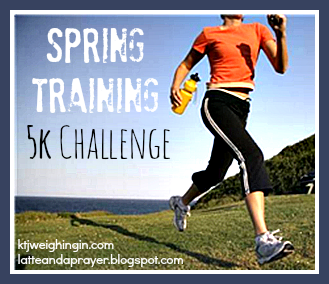 Happy Tuesday! I am linking up again today with
Katie J
's Spring Training 5K challenge. Her blog states, "
The goal of this challenge is to get moving. No matter how much or how little you can do you can participate. Linkup and share a fitness related post. If you've started walking, running, swimming. . .tell us how you've started to get moving! At the end of the challenge we will be running/walking a virtual 5k together on June 1st!!!"
That's good news for me because I didn't run at all last week! Not once. I missed it but it was just such a crazy week with my final consignment sale preparations that I just cut running from my list. I did, however, complete 5 days of Jillian's Ripped in 30, week 3! woot!! I ended up taking Thursday off so I finished my week on Saturday afternoon and I was SO happy to be done. :) I think every week has been really hard at certain points throughout the workout and I have been really glad to finish each week as I go along. I will be ready for something new next week but still haven't figured out exactly what. Any suggestions? I might just try some of the at home workouts I see on Pinterest all the time. Now that I have a heart rate monitor, I'll be able to tell how many calories I burn doing different things which is really cool.
Yes! I have a heart rate monitor! My friend Zoe loaned me hers and we just got a new battery on Saturday. At first it didn't work and I was so sad but Patrick stopped what he was doing, took it down to the basement, and came up about 10 minutes later with it working just fine. Thanks, bunny! It's really cool to have and has shown me so far that my workouts are burning calories pretty close to what online calculators had me estimating them at.
So, even with no running, last week was a success. I put myself and my commitment to exercise first and that felt good, even when it was hard. Especially when it was hard, I guess.
That reminds me of this inspiring post I read. Choose your hard. Love it.
xoxo
p.s. go see what everyone else was up to this week!