spring training:5k challenge
I'm linking up for the first time today with a 5k Challenge I found on
KTJ Weighing In
's blog. Whoever wants can post about their fitness activities for the week and hop around to other blogs and get inspired by what everyone is doing. I guess there is a virtual 5k on June 1st, too!
If this is your first time visiting me, hello! I'm Stephanie and I lost 20 pounds 2 years ago and have kept it off (aside from some yoyo-ing over the holidays and vacations). I am finally ready to lose some more and my first goal is to be 10 pounds lighter/
wearing some "goal pants"
by my birthday, June 10th. I had some vacation pounds to lose first (a lot of them...8!) which I've done and am now back to my old regular weight and hoping to go down. I did the c25k plan last year and ran 2 5ks. The first was a regular one and it was super hard for me. You can read about it
here
. (I am #122 in the picture below) I look happy and I was at this point...happy to be DONE. :)
The second was The Dirty Girl and that was AWESOME. :) You can read about that one
here
.
I am signed up for another one at the beginning of May and then the Dirty Girl again in August. I started the c25k again a while ago to get me going as I didn't run or really work out most of the winter.
Yesterday afternoon I finished week 6 of the c25k which was walking for 5 minutes and then a 25 minute run. ugh. I read somewhere that the first minute of a run is the worst and I kind of believe that. It is always sooooo hard for me to start. I feel awkward and tired for a few minutes until I find my breathing groove. After that the run felt okay for a while and then near the end it got really hard again. It was a gorgeous day so that helped a lot. It felt really good to finish!
I really want a heart rate monitor but they are
at least
$70, which seems like a lot right now when I have some other financial goals I'm trying to reach. I told myself that whenever I hit 10lbs lost that I will get one and hopefully that will keep me motivated to keep going. I also am super curious about my heart rate when I'm running. It feels pretty good when I am going my usual snail's pace but when I pump it up for a bit it goes crazy. (it seems to come down quickly, though.) I think that's why you are supposed to do intervals...raise it, lower it, raise it, lower it. We did that a bit last year and it was so hard. I need to find a time to try it again.
If anyone has a heart rate monitor that they love, I'd love to hear about it!
I just now finished day 2 of Ripped in 30's week 2. Today was better because I knew what was coming but it was still super hard. I'm glad it's over. COFFEE TIME!!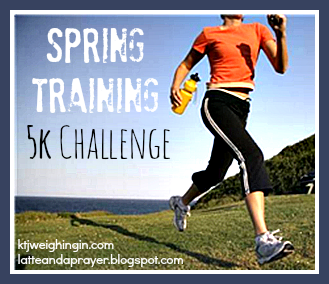 Thanks SO MUCH for visiting and click on the runner girl above to see how everyone else is doing this week! Also, please let me know in the comments what you've been up to! I am so glad I found a bunch of fitness and weight loss blogs because they have been so inspiring to me!!
p.s. Dude. I know I need a new header. Soon, I promise. :)