weigh-in wednesday, week 1
Today I'm linking up with Erin and Alex for Weigh-In Wednesday!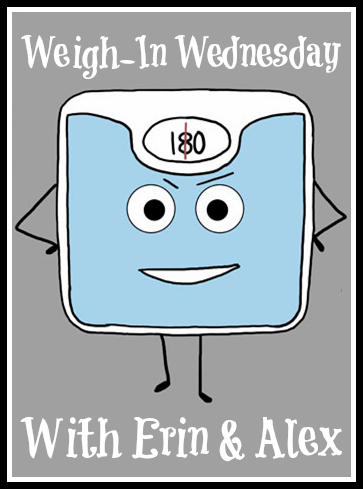 It's the first time I've joined their link up and I'm looking forward to keeping myself accountable in another way. :)
Today was a good day to start because I was down 2.6 lbs from last week. The week before I lost 1.2 lbs but seemed to be gaining and losing it all week so I was really happy to see another loss today. It feels good. I got past a number on the scale that has been a huge STOP sign to me for a long time in that I never seem to get past it. Seriously, maybe once or twice in the last 2 years. I am just going to do my best this week to get that stop sign even further behind me. (in my
rear view mirror
if I were to continue the automotive analogies...)
And now I'm going to go on and on about the rest of my life so I won't feel bad if you click away now. But thanks so much for stopping!! :)
**********************************************************************
So yesterday my littlest baby turned 3. I can't really put into words how important he is to me and how much joy he has brought into all of our lives. Yes, even when he pukes all over the whole upstairs at 12:30 am after he's feasted on blackberries, strawberries and chocolate cake. (true story. last night was awesome!)
(I loved these newborn days.)
(This kills me. Patrick is such an amazing man and father.)
(3 of them?? Blessed. (see also: crazy. but mainly blessed.) )
So, yeah. I love going down memory lane a little bit. Here are some shots from yesterday, before the puke fest commenced:
Here is that Mickey Mouse cake he requested. Oh, man. My kids will probably laugh about my homemade cakes when they are grown ups. :) At least I try. (but, for the record, I would totally order bakery cakes sometimes if I could!!)
I added a tablecloth after this (red) so it looked kind of festive when he got up from his nap. We didn't give him his gifts (aside from the digger thing) until Patrick got home. He was shocked, to say the least. :)
Of everything, he loved this last minute superman tee, cape and mask purchase the best. He was so cute...just loved them! :)
He was kind of cranky all day yesterday but gave no indication that he was sick. (James is fine, by the way. totes fine.) Then he went to bed and I woke up to him crying at 12:30am and a trail of purple vomit (sorry) all over our upstairs. It was seriously bad. Patrick got out our carpet cleaner and thankfully got it mostly all up. (shudder.) He was up about 6 more times throughout the night but seems better today. My friend (whose son is at Nicky's same daycare and was also there on Monday) did the SAME thing last night so hopefully it is just a quick bug. Patrick and I have a plan in place that he will stay home tomorrow morning if Nicky is still sick because I have my half pint drop off! Nice timing. :)
(Actually, the timing could have been a lot worse. Thank you, Lord.)
I had actually finished my pricing last night before bed! Yay! Today I just have some sorting to finish up and then get it all into totes and loaded in the van, which I actually love. I cannot wait until it's all dropped off tomorrow! My basement will be so much emptier, I should get a big check in the mail before long (hoping to be in the $700-900 ballpark??), and I can get all my ebay stuff sorted out before summer happens.
I want to write about last weekend before I totally forget all of it. We have had some intermittent mild days the last couple of weeks and they are SO appreciated. Saturday was cool and cloudy, though, so I took James and Ruby to see the Croods (loved it) and out to Pizza Hut (their choice) for lunch. A movie, popcorn, drinks and lunch for 3? $58. yikes. And Pizza Hut is even cheap now! (I was glad I was having some good ebay sales! :) ) That night Ruby and I went on our fun run and I really did love that. It's a happy little memory in my head now. Sunday we did stuff around the house and then finally all got outside at around noon. I planted another tree and Patrick put some chicken wire around it so hopefully our neighbor dog won't kill it with his pee. James had a friend over and all the kids played outside for a long time. When Nicky took his nap I cleaned off the patio and some of the garage and then we went to church. It was such a good day. xoxo, Sunday.
Oh! And I love when Patrick watches
Sandwich King
. This might not look as good as it was. It was a chopped ham, cheese and spinach grilled sandwich topped with a fried egg. He overcooked the egg a little but it was still sooooooo good.
This was so long! Tomorrow I will tell you about the buttercream frosting. Oooooooh, was it good. Long live buttercream! I heart buttercream.
xoxo